Extended Compact and Walk Through States That Work With Your Nursing License
Story by Milenia Medical Editor / December 18, 2015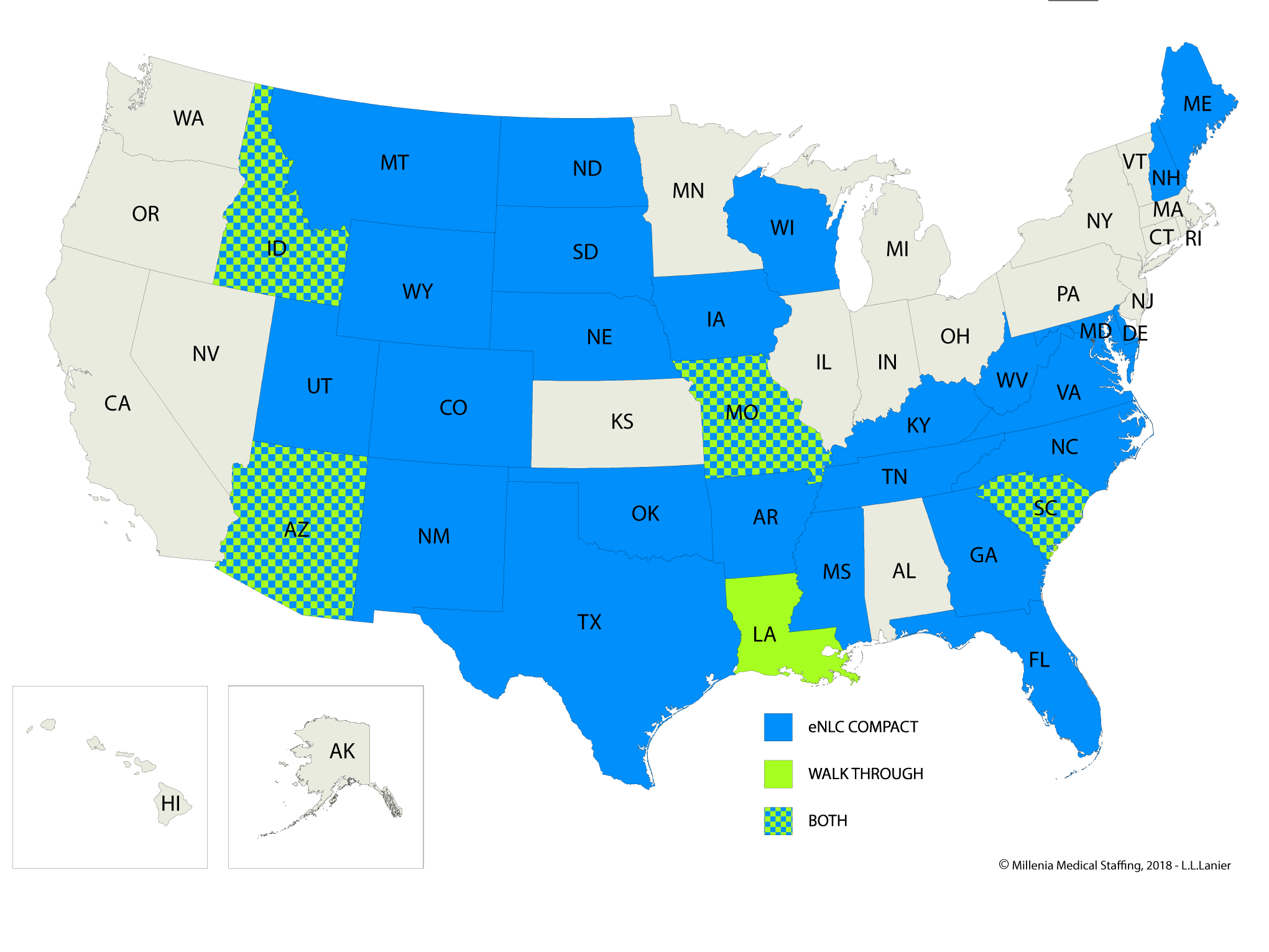 The Extended Nurse Licensure Compact (eNLC)
In 2014, the National Council of State Boards of Nursing (NCSBN) began an initiative to enhance the NLC and further increase the mobility of nurses, allowing those residing in certain states to obtain a multi-state license. Known as the Extended Nurse Licensure Compact, or eNLC, nurses with this "Compact License" may practice in their home state, as well as in other states that participate in the program. Today, 29 states offer Compact Nursing Licensure and several other states are either working on legislation or their membership is simply pending implementation.
Walk-Through States allow nurses to obtain a temporary license to work. This process usually only takes between 1-2 days and a temp license is issued while the nurse's permanent license is being processed. Walk-Though state licenses are valid for up to 6 months, depending on the state that is issuing the license. Today, 5 states and The District of Columbia are considered Walk-Through.
There are 4 states that are both Compact and Walk-Through, making it as easy as possible for nurses to quickly get licensed. See our map below for an overview.
COMPACT STATES
Arizona
Arkansas
Colorado
Delaware
Florida
Georgia
Idaho
Iowa
Kentucky
Maine
Maryland
Mississippi
Missouri
Montana
Nebraska
New Hampshire
New Mexico
North Carolina
North Dakota
Oklahoma
South Carolina
South Dakota
Tennessee
Texas
Utah
Virginia
West Virginia
Wisconsin
Wyoming
WALK-THROUGH STATES
Arizona
Washington D.C
Idaho
Louisiana
Missouri
South Carolina